Drawing Mediums
Graphite Pencils
The most used graphite grading scale is known as the HB scale. Most pencil manufacturers use this scale, using the letter "H" to indicate a hard pencil. Likewise, a pencil maker might use the letter "B" to designate the blackness of the pencil's mark, indicating the lead will be softer. The letter "F" is also used to indicate that the pencil will sharpen to a fine point.
Pencil makers also use combinations of letters to tell us about the graphite — a pencil marked "HB" is hard and black, a pencil marked "HH" is very hard, and a pencil marked "BBB" is really, really black! However, todays day most pencils using the HB system are designated by a number such as 2B, 4B or 2H to indicate the degree of hardness. For example, a 4B would be softer than a 2B and a 3H harder than an H.
Graphite pencil sets can easily be purchased at any art supply store, the prices may vary depending on the brand!
Kneadable Eraser 
Kneaded erasers are an essential drawing tool. This video will help you to learn all about this sticky and gooey but helpful tool!
https://youtu.be/GrB3gYEbo3w
Shading Stumps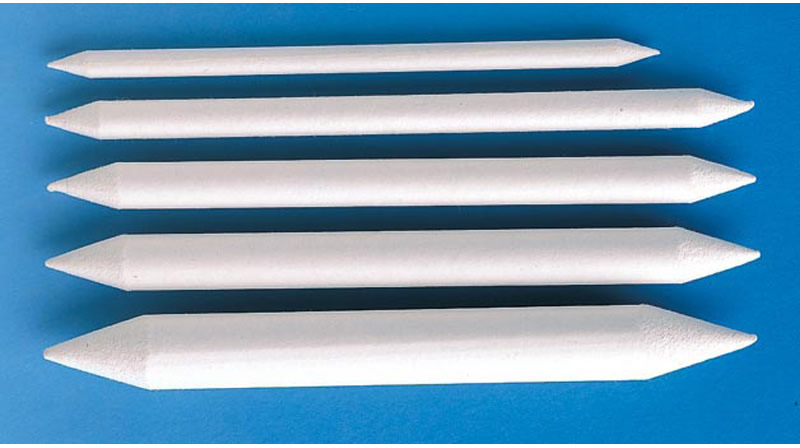 Blending tools are used to move material around on a drawing surface. When the material is spread on the surface using a blending tool, the value of the graphite can be manipulated. With shading stumps, smoother transitions between dark and light can be achieved and different kinds of textures can be achieved.
While blending tools can be used with just about any medium, certain drawing media are better suited for their use such as grahpite, charcoal, and soft pastel. Other mediums shading stumps can be used for are colored pencils and conté.
Although many artists use their fingers to blend,  your fingers contain oils that can contaminate the medium, leading to smudges or areas that are difficult to erase.  Using a blending tool prevents the oils from mixing with the medium and lowers your chance of disrupting your work.
Blending stumps are compressed cylinders of paper that come to a point at the end.  They come in different widths, but the tips are consistent in sharpness. Blending stumps typically have two pointed ends and when one end becomes dirty, the other can be used. Blending stumps are very inexpensive and can be disposed when they become too dirty to use.
TIP: if you rub the dirty end of a blending stump against a piece of sandpaper it will help clean them up a bit making your stump last a bit longer.
Prisma Pencil Crayons
The quality of a pencil crayon is very crucial when completing an illustration. Typical pencil crayons such as Crayola or Rose-art can be too rough and don`t allow  for much blending. Quality can also be spelled P-r-i-s-m-a-c-o-l-o-r! If you're looking for the highest quality colored pencils, then these are your best bet.  
So, let's take a closer look at the pencil set…
Features:
1. Nice tin case for the pencils to protect them from any damage, especially being dropped! (these pencils are soft, therefore can easily be flawed)
2. Soft wax pigment (what Prisma is well known for using) easily spreads over different surfaces
3. Waxy pigment can be thinned with solvent and can be painted and spread over the surface (YAY for mixing mediums!)
4. Layering colors build up quickly
5. There are a huge variety of colors that are sold individually (so if you run out of your favorite color or are using one color for a large drawing, there is no worry!)
Cons:
1. Pricey – but hey, you get what you pay for
2. These pencils are so soft that sometimes they break internally making the pencil life shorter
3. Can ruin an electric pencil sharpener
Here are some different kinds of  Pencil Crayon Sets that Prisma offers!
Softcore Colored pencils
Soft, thick cores create a smooth color laydown for superior blending and shading
Art Stix Colored Pencils
Achieve a bold laydown of color and is especially suited for color coverage of large areas.
Verithin Colored Pencils
Hard, thin core is ideal for outlining, detailing, lettering and cleaning up edges.
Watercolor Colored Pencils
Pencils can be used with water and a brush to create translucent, watercolor effects.
Scholar Colored Pencils
Harder cores designed for the developing art student and crafters.
Colorless Blender Pencil
Ideal for softening hard edges and blending and lightening colored pencil artwork.
Mixed Media Set
From simple sketches to complex creations, this mixed media set will have you covered
Charcoal
Charcoal sticks are ideal for warm-up sketching, under painting layouts and finished charcoal artwork where as charcoal pencils can provide a clean working environment for adding detail to finished artwork
Charcoal can draw on almost any type of paper meant for drawing. Remember, though, that coal sticks can be very messy. It comes off your skin very easily, but to avoid your table becoming all black, put some newspapers or other papers under your workspace.
Try a black and white portrait, even if you are a beginner. a good tip is to put it in front of you and turn it upside down. If you do this, you do not have exact imagination of what you are drawing and your image will be unique. You are focusing more on the shapes the images is composed of rather than worrying about what the final composition is. You can aim for some basic highlights of the human face; you do not need to copy the image exactly. This could be a warm up exersise!!! Your image may not the best or exactly like the original photo (but it looks like human!). If you want to, you can start all over again to get more practice. Once you begin to master making gray gradients, you can move on. you can continue by drawing a still life. Pay close attention to lighting and shading and use same techniques as you learned with practice and you will get the hang of charcoal with time!
When you have finished with a drawing, spray it with a fixative to prevent smudging. (A fixative can be purchased at any art supply store and can also be used to prevent smudging with other chalky materials, such as chalk pastel compositions)
Quick tips:
Artist's charcoal can be found in your local art store.
Though you can use your regular eraser, it is better to use a kneaded eraser, as it is a special type that's made especially for coal.
If you need to smudge something to add highlights or shadowing, use the heel of your palm. Save this for last because it gets really messy, or ruins your picture.
Always keep your work-space ventilated. You don't want to breathe in too much charcoal.
Always wash your hands after working with coal- Never put your hands in your mouth
For good shading on your picture, smudge the charcoal with the tip of your finger HOWEVER, 

Don't touch your picture after drawings unless you have washed your hands as your picture will be ruined with smudged fingerprints.
Illustration Pens and Markers
A great and well known brand of marker and illustration pens used for creating amazing compositions is COPIC! They are know for producing the highest quality alchohol markers in the world. These markers and pens were first developed for the Japanese manga industry which is well known for creating all different types of anime! However the quality of the markers was quickly recognized by artists of all kinds and have been adopted by all styles of art including design, illustration, crafts and mixed media.
Each Marker Features:
Vibrant, Smooth Coloration- Copic ink applies smoothly and is easy to blend. The alcohol based ink dries acid free and does not destroy paper fibers the way water based inks do. Also, the open time on un-coated papers is limitless, so you can go back and re-wet the ink years later!
Permanent & Non-Toxic inks- Copic markers are free of harmful chemicals and overwhelming odors, making them much more enjoyable to use than other brands
Refillable-Once you purchase a marker, it is yours for life. By simply refilling the marker and replacing damaged nibs, your marker will last a lifetime. Some artists have been using the same markers for almost 25 years
Dependability- Copic markers will not dry out when not in use. With a guaranteed 3-year shelf life, your investment will not waste away in storage.
Super Brush Nib- This unique, flexible brush allows for smooth blends and paint-like application. No other brush marker on the market has the feel and quality of the Super Brush nib.
These markers come in a large variety of sizes, colour and brush types that can be purchased in sets or individually at generally every art supply store.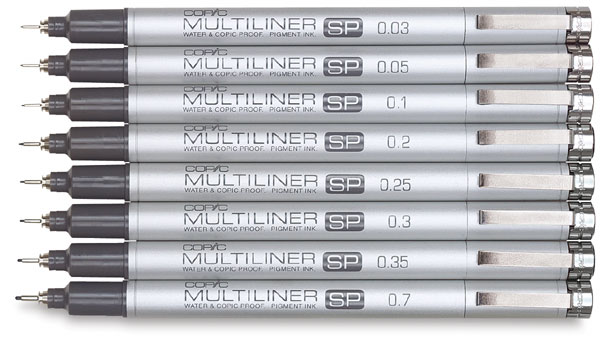 Painting Mediums
Watercolor set
Paint Brushes
Acrylic Paint
Recommended Locations
Deserres
9325 Yonge St
Richmond Hill
Michaels Craft Store
7850 Weston Rd
Woodbridge
Above Ground Art Supplies
2868 Dundas St W
Toronto
Gwartzman's Art Supplies
448 Spadina Ave
Toronto