Hitting the Nail on the Head
"Nails are the period at the end of a sentence, they complete the look"-Prabal Gurung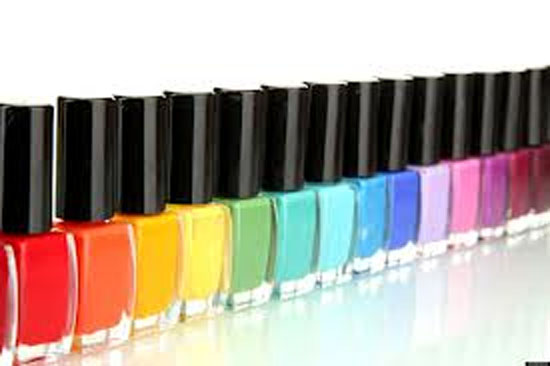 If you've ever been to an image consultant, or even an employment consultant for that matter, you will have been educated on the importance of your hands and how they related to your demeanor and overall appearance.  You can't even begin to imagine how many people pay attention to your hands, they reflect your professional presentation, and people respond well to someone with well-kept hands, including fingernails.
Right next to my shoe obsession, is one for nails, in fact I consider my nails miniature canvasses on which I can further demonstrate my artistry, and I have been doing so for a countless number of years.   I have frequented many nail salons and boutiques, discovering the notable difference between nail technicians and nail artists.  One such master, the one who has worked his craft on my nails, is the namesake behind the very well known "Nails at Anthony's" located in Woodbridge.  Anthony and his team are amazing, dedicating time and precision into their mini masterpieces, in this case being my bed of enamel.  Each nail is hand crafted, sculpted, designed and even embellished with jewels and accessories that they have taken the time to select specific to me.  They will also quite often come up with nicknames for me, describing the time and type of design that I am having done.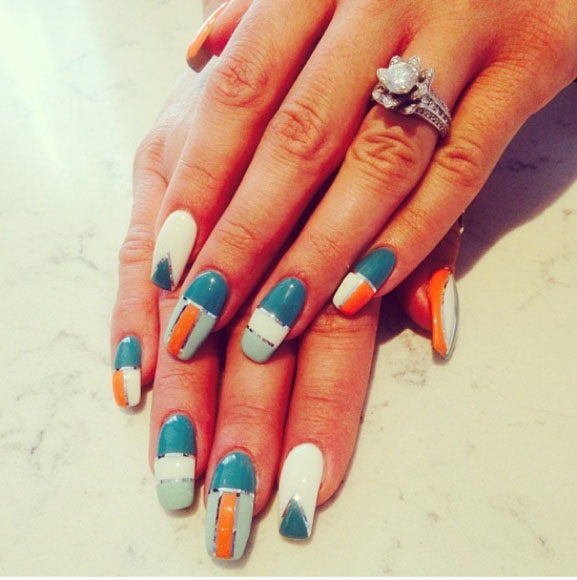 The nail lamp under which Anthony often works could essentially be a spotlight of sort on my hands for we often get many spectators watching the artistic process and asking to see the final result.  Not to mention all the wonderful compliments I receive from many of those same observers and my own family and friends, in addition to all the positive feedback that Anthony receives on his social media channels when he posts his latest masterstroke.  Those acclamations do not come merely based on the design, there are other reasons as well.
Anthony always takes care and pride in choosing the right shaped nail that is suitable for the type of hand of each of his clients; whether long skinny fingers; long full nails; petite hands; or thick hands.  Also of importance is the length of the nail bed.  Someone with a short nail bed should keep their nails at a short to medium length; someone with thicker hands should keep the nails more narrow, rounded and medium length; and someone with long fingers that are not too thin, can pull off almost any style of their choosing.  The least flattering nail shapes are the ones that widen at the tips, as they do not compliment hand.  This particular shape is a current fad, however, style isn't always about following trends, it is important to choose the right style for your specific shape.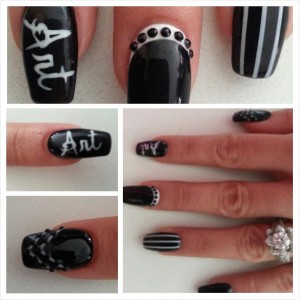 With shape out of the way, now it's time to decide on style that I want to adapt for my wedding. Anyone following my journey in designing my fairytale wedding can conclude at this point that I am not a French manicure kind of girl.  While it looks beautiful, clean and elegant I am an artist and my nails will be yet another form of self-expression.  I want something unique, yet I don't want my nails to take away from my gown and jewelry, in particular my rings.  In keeping with my theme of texture, I may opt for texture over tone on tone colors rather than a bright color and design.  I'm thinking mini pearl appliques and three dimensional flowers.  My biggest dilemma however, I will need to have my nails done just before the wedding and have them last for a full three weeks while on my honeymoon.  Anyone who knows nails like I do, also knows the rules, chlorine can really do a number on the finish and color; the heat can dry out the cuticles; regrowth for dark or brightly colored nails is far more noticeable and three weeks worth of regrowth makes them susceptible to breakage (and while I would love to have Anthony on hand for just such an emergency, he's not easily packed away in my luggage).  So shellac it is along with realizing yet another element of my design.