Maya Hayuk, an artist from Brooklyn, has just completed work on her second large-scale mural in Canada and it's everything we've come to expect from the vibrant young artist.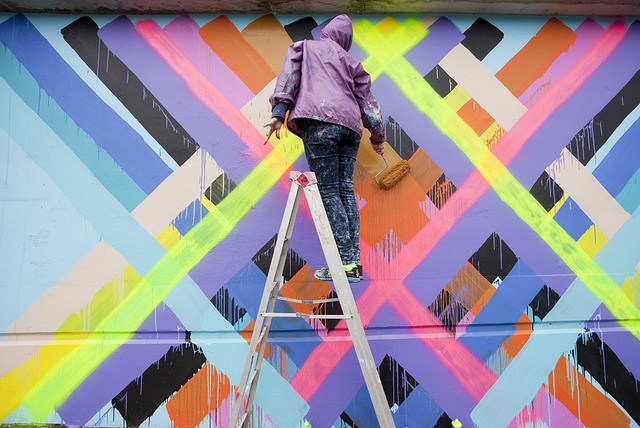 The new 300 foot mural spans a roadway in Toronto, transforming the otherwise dull concrete into Hayuk's many stripes of bold neon colours.
It's separated into 12 distinct pieces and can be considered a permenent open-air exhibition, with a collection of 12 works.
Hayuk's work is instantly recognizable. Bright, cheerful colours dominates her pieces, and geometric figures, stripes and crisscross patterns work together to create abstract linear landscapes.
She's painted her colourful murals throughout many major cities, such as New York City, Los Angeles, a brick building in Brussels and a metal warehouse in Pennsylvania.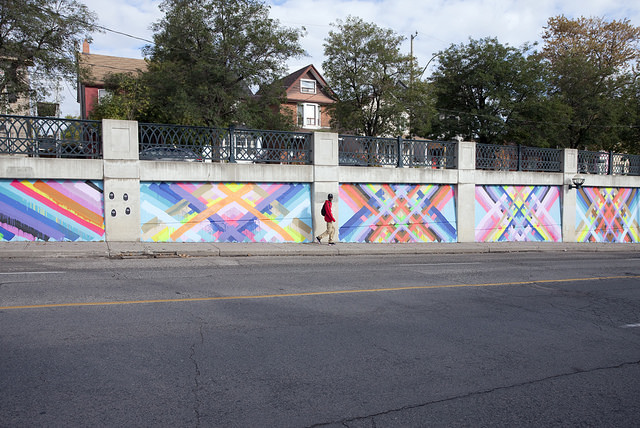 The vibrant mural was coordinated by Spectrum Art Projects, Cooper Cole Gallery, and partially funded by the City of Toronto's StART Partnership program.
We can't wait to see it in the city!
Maya's paintings are being shown at a solo show at Cinders gallery in New York.

Check out her other work here.