Facade students and instructors were inspired by the annual Nuit Blanche art festival, which transformed the streets of downtown Toronto into interactive art installations. The

all-night art festival

was a huge success, with the streets spilling with thousands of people and hundreds of interactive art installations. From sunrise to sunset, people of all ages enjoyed the

festival atmosphere

,

great food

and

thought provoking artistic statements.
Among the standouts were the

Global

Rainbow

art

installation

by artist Yvette Matern, who brings her laser beams to cities around the world for an impressive light show. The lasers bounced off the CN Tower for a breathtaking view of the city`s iconic landmark. Massive structures with plants attached to them graced Queen Street, resembling

mechanical

palm trees

, and lights of all different colours shone on a maze made out of white see-through fabric, creating an

awesome experience

when your navigating your way through the hazy maze.

Screaming booths

scattered the city as well, providing a soundproof outlet if you've ever had the

urge to scream

in the middle of a crowded street.
Check out some pictures below of some of the coolest art installations at this years

Nuit Blanche!
8th Wonder at Union Station  |    Holoscenes         |              Pro Oil ads played behind of Oil Filling the pond
Scream Booth by Cleanie Beaudin   |   HALFLIFE at City Hall   |  Between the Doors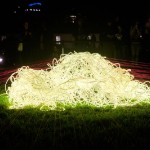 Bright Bundle by Bruno Billio