Planning a Wedding is a Piece of Cake
"Cakes are special.  Every birthday, every celebration ends with something sweet, a cake, and people remember.  It's all about the memories" (Buddy Valastro)
Cakes are certainly symbolic of celebratory moments, often playing a starring role in special occasions, with wedding being no exception.  Serving cake at a wedding in fact, has a history dating back to ancient Rome where bread was broken over the bride's head to bring good fortune to the newly wedded couple.  The tradition has evolved greatly since then (thankfully, I wouldn't want to be picking crumbs out of my hair) and so has its overall form.  Wedding cake has gone from being a bread made of barley, to a stack of small sweet buns, to fruit pies and finally the incarnation everyone is most familiar with, the tiered stack of sponge or pound cake that can be designed using various and ingredients and tools to create sweet masterpieces.
While my artistic abilities do not extend into the culinary arts, I still view this as an opportunity to express my creativity and will be working with a cake designer to create a custom confection to celebrate my fairytale.  Using cake as a canvas there will also be opportunities to carry over my recurring theme of texture.  With elements like marzipan, fondant, gum paste, buttercream and royal icing the possibilities for artistry, even the sugary kind, are endless and here is where some indecision lies on my part.  I am torn between choosing to customize a large cake or mini cakes and have actually developed design ideas for both.  I am working with a pastry chef on these ideas and will then choose what works best for my overall vision.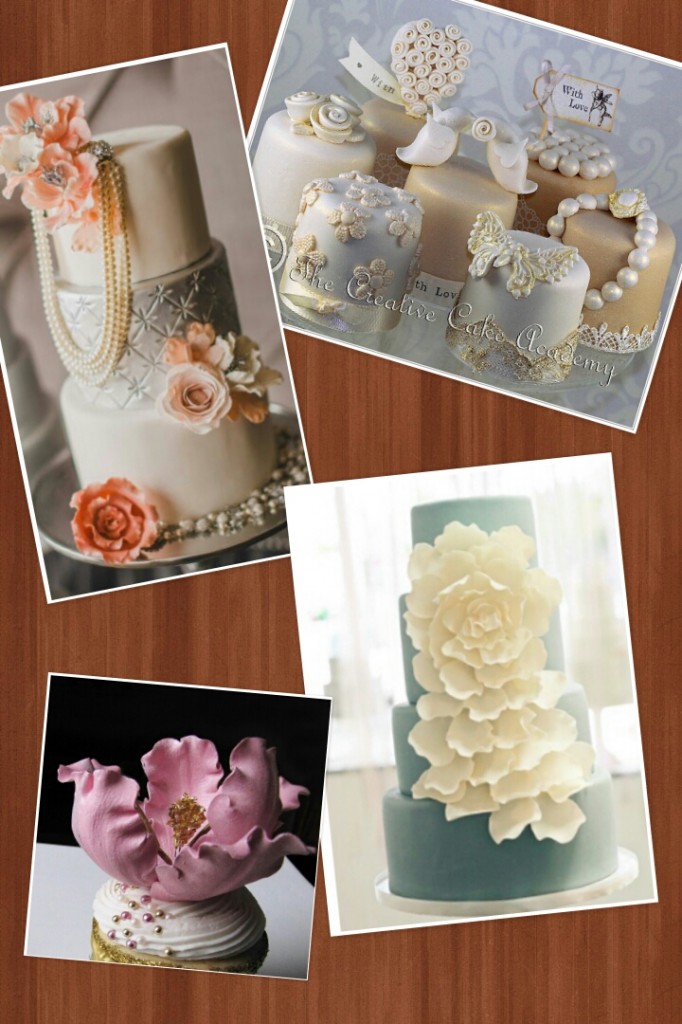 I am experimenting with flavors and styles and enjoying every sweet moment let me tell you.  For the mini cakes my ideas include taking accents from the other design elements in the flowers, my gown and accessories to embellish them and give each one a unique design.  For a large tiered cake on the other hand, I am leaning towards simplicity and the reason for this is that it will be a large focal point and do not want it to take away from the other design details of this special event.  Having a cake that is too heavy in detail would be a bit much.  So rather than being elaborate with the design, I will let the surrounding flowers, bring its full presentation to the next level.
In terms of colors, the mini cakes would each reflect the same color palette that I selected  for my flowers, while the tiered cake would incorporate baby blue, ivory and a touch of pixie dust…ooops I mean gold shimmer.  As for the cake topper, all I will say for now is that it too will be keeping with my fairytale theme.
"Romance is the icing, but love is the cake" (Julia Child)