…the creative clashes that occurred behind the scenes…
Two-time Academy Award®–winner Emma Thompson and fellow double Oscar®-winner Tom Hanks topline Disney's "Saving Mr. Banks," inspired by the extraordinary, untold backstory of how Disney's classic "Mary Poppins" made it to the screen.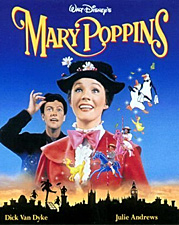 When Walt Disney's daughters begged him to make a movie of their favorite book, P.L. Travers' "Mary Poppins," he made them a promise—one that he didn't realize would take 20 years to keep.
In his quest to obtain the rights, Walt comes up against a curmudgeonly, uncompromising writer who has absolutely no intention of letting her beloved magical nanny get mauled by the Hollywood machine. But, as the books stop selling and money grows short, Travers reluctantly agrees to go to Los Angeles to hear Disney's plans for the adaptation.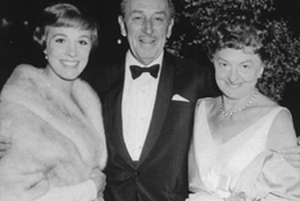 For those two short weeks in 1961, Walt Disney pulls out all the stops. Armed with imaginative storyboards and chirpy songs from the talented Sherman brothers, Walt launches an all-out onslaught on P.L. Travers, but the prickly author doesn't budge.
He soon begins to watch helplessly as Travers becomes increasingly immovable and the rights begin to move further away from his grasp.
It is only when he reaches into his own childhood that Walt discovers the truth about the ghosts that haunt her, and together they set Mary Poppins free to ultimately make one of the most endearing films in cinematic history.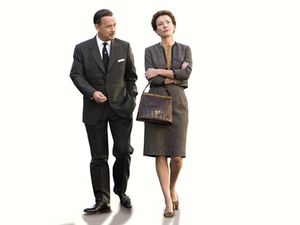 This past weekend, the Façade team decided to sit back and watch the Disney movie, Saving Mr. Banks.
Surprisingly the theater was quite, unsure of what to expect, we sat quietly and witnessed another masterpiece unfold.  After watching the movie, we were left in awe with the highest respect for the Disney team.  The movie presented a fantastic story line. Not sure why the theater was quiet that night.  Most people would of thought that the movie would be focused on Walt Disney himself, but instead the main character presented was P.L Travers, the author of Mary Poppins.  Her story unfolded in the most endearing sequence of events.  The drama, the passion and the love behind her true story was very moving.
Everything about Saving Mr. Banks feels top-notch and detailed, from the early 1960s production design soaked in sea foam blue and woolly fibres, to the props and cinematography.

 

You have to have a deep respect for what they did with this movie.
From an artist and designers point of view, you got a lot of insight into how Disney used to create their movies and where the stories came from.
As well as how persistent Walt Disney was when he found a story he loved and wanted to recreate it.  How he collaborated with other artists to develop the stories we have loved our whole lives and how this collaboration was at times more work than we expected.  Essentially, that is what this movie is about…
the creative clashes which occurred behind the scenes of 
Mary Poppins. 
Not only was the story of Mary Poppins based on a true story, but the movie (Saving Mr. Banks) was based on a true story between Walt Disney and P.L Travers, a famous novelist.  Disney had saved a lot of information about Walt's collaboration and the two weeks in which he and Travers worked together.  This information was used to create the movie and make it as accurate as possible.  The movie made several references to characters and the script of Mary Poppins.  For any Disney fan, like us, this movie brought back many memories and continuously put a smile on our face.
This movie was witty, smart, funny, passionate and inspirational. One cannot help but fall in love with Walt Disney and the creative team behind his empire.
.

 "I don't look or sound anything like Walt Disney,"
Tom Hank affirms in response to becoming Walt Disney,
"in addition to growing a mustache and parting my hair,
the job at hand was to somehow capture all that whimsy that is in his eyes as well as all of the acumen that goes along with that."
"You can't do an imitation of Walt Disney. I wanted Walt Disney to come from inside."
No great actor has the confidence to play Walt Disney himself, because you can't possibly imitate such a grand personality like that.
But Tom Hanks did a phenomenal job. He did not look like Walt but he sure reminded us of him by perfecting his mannerisms, demeanor and choice of words.
Not to mention the reflection of passion in his eyes.
After watching the movie, you have a different outlook on the production process and the creative minds behind the Disney empire. This is a movie we highly recommend for everyone!
Click on the image to watch the trailer
Click on the images to enlarge