The Third Time is a Charm
"They say that if you dream a thing more than once, it's sure to come true" (Princess Aurora)
I have been dreaming and designing my wedding gown in my mind, since I was a little girl, and now here I am seeing that dream come true.  The third and final fitting has me in awe for two reasons.  The first, the sheer fact that only three fittings were necessary, but I guess the old saying is true, the third time is a charm. Second, seeing the completion of something I that I created alongside other talented designers.  I cannot even begin to describe the sense of accomplishment, satisfaction, excitement, pride and honor that I felt seeing my wedding dress.  Something that started out as an image in my mind, turned into a reality.
This fitting included my mother, my Man of Honor (yes, there I go again forgoing the traditional wedding standards), my photographer Vanessa Galle, Ines De Santo, her assistant and the seamstress. Despite the entourage, I was still rather emotional for once I slipped into my gown I realized how quickly my wedding day was approaching and how soon my life would change, for the better. Most girls dream about this experience, and living it now is much more surreal than I expected.  The last fitting was perfect, and my gown is perfection.   I don't think I have ever been as fully satisfied with any one of my creations as I am with this gown.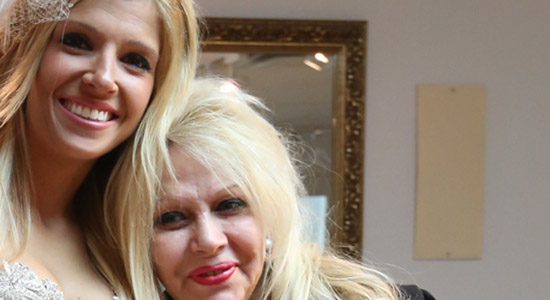 (Me and Ines Di Santo at my last fitting)
To my complete surprise, Ines incorporated an additional detail that added to beauty of the dress and made it extra special.  It has truly been an honor to working with Ines and her team.  They have treated me so well and really invested time in understanding my vision and bringing it to life.  I had the most radiant and glowing smile on my face seeing myself in my gown, with all its accompanying elements for everything was exactly as I had envisioned it. Now as I head home with all my pieces of art in tow, I am filled with excitement and eagerly await the big day on May 14th.
If you've just consulted a calendar you will note that it's a Wednesday, and there is a reason for that which will be revealed, along with the location of my wondrous occasion as this fairytale continues to unfold.  If you've been following along, you will have undoubtedly noticed the hints that I have dropped along the way.  You may recall that I will not be getting married in a church; the event is non-conventional and that I have an appreciation for all things artistic, imaginative and out-of-this-world. I will have to keep you guessing for a few days more.
Stay tuned for the BIG reveal on Tuesday May 6 !!!