Walk An Aisle In My Shoes
In one of his most memorable roles as Forest Gump, Tom Hanks proclaimed that "There's an awful lot you can tell about a person by their shoes"  and anyone who knows me, knows this to be very true, for my shoes are definitely a reflection of my personality and my mood.
To merely say that I love shoes is not nearly a powerful enough sentiment to express my passion for footware.  I am obsessed with shoes and though I won't reveal the exact number of pairs that I own, you can safely assume that the number is well into the hundreds. I could easily be compared Imelda Marcos who was rumored to have more than a thousand pairs, but unlike the infamous first lady of the Philippines, my collection is not about excess, but rather ardor. I view shoes as small pieces of artful expression which is why I am always after unique styles and I have made no exception for my wedding.
I am all about color, texture and style, which has translated into all the elements of my wedding thus far, and definitely carries over onto my shoes.  They will be attention-getting, stand out pieces that I too will be designing, however the shoes have presented one of the greatest challenges.  Unfortunately, in Canada, we simply don't have the resources to create a pair of shoes from scratch, believe me I've checked.  I absolutely adore European shoes, however it wouldn't be practical to get a pair of shoes custom made in Europe and then sent to Canada, the costs would be astronomical. By the same token though, I did want a custom pair that would look like they were made for my gown.  I considered looking for an existing style that could potentially be an extension of me, but I was unlucky in my search for any "crazy" designer pair that I would consider was either unavailable in my size, or out of season.  So back to the drawing board, both figuratively and literally, to come up with a solution.  That solution being, to find a plain pair that I could embellish. I looked to the designers that I respect the most for shape and style to see what they had in a plain ivory shoe, that I could use as my foundation.
Gianmarco Lorenzi, Louboutin, Versace and Giuseppe Zanotti, all designers who make gorgeous shoes that accentuate a women's leg.  I decided on a pair of silk satin, ivory peep toe heels (did I mention I love wearing 5-6" heels) from Zanotti and proceeded to order them from Italy.  In the meantime, I created yet another sketch and pulled together many of the same details from my gown; lace embellishments, pearls, Swarovski crystals, gems, flowers, feathers and broaches. I then ran the design by the team at Artemis to ensure that my dazzling heels would not clash with my other accessories.  After 10 torturous days my anxiety was transformed into excitement with the arrival of a UPS truck carrying my Zanottis.  I ripped open the package and carefully placed them on my feet, much like Cinderella with her glass slipper and was amazed by the absolutely perfect look and fit.
I made my way back to Artemis the following day to select the jewel colors and textures, which believe it or not took 3 hours. A crucial selection of color shades that would look best on the shoes for if the jewels are small you need to go with a stronger shade, meanwhile with larger jewels you need softer shades. Once my selections were made, I made a trip to the fabric store, John Bead and Michaels to purchase the materials for a mock-up of the final design.  After some trial and error I brought my vision to life but before moving forward with the execution of my shoe vision I paid one more person a visit, a friend in the industry who embellishes shoes for brides. I showed him my idea, which admittedly was a far more intricate design involving multiple materials, fabrics and jewels and he agreed to take on the project if I so wished.  So here I am now at a crossroads with a decision to make, do I proceed with creating the shoes myself, or allow him to fabricate my fairytale shoes?  There are both advantages and disadvantages to consider, but I must consider them soon in order for the production to begin. I am torn and the last thing I want is to make the wrong decision for my precious Zanottis.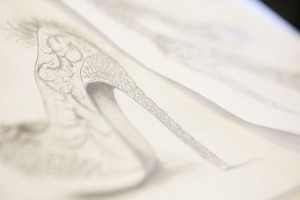 My trip to John Bead . . . what was supposed to be a 1 hour trip, turned into 5 hours.  There are soo many items to choose from.  I walked away with many beautiful jewels and embellishments to incorporate into my design.  If you ever need to decorate anything, from shoes, to clothes, bombaniere, invitations, etc… John Bead is sure to have everything you need: swarovski, feathers, pearls, metal clips, pendants, gems, beads, glue, masks, embroidered appliques, and much more . . .
My adventure begins.  For the next few weeks, I will be experimenting with my shoe design, testing out compatibility of fabrics and glue, crystal placement, feathers, pearls, appliques and lace prints.  I have a lot of work ahead of me before I decide if I will attempt the final product or if I will require the assistance of my friend.