Bloom
into
spring
this
year
with
Disney's
Garden
Festival!
The Epcot International Flower & Garden Festival happens from March 5-May 18, 2014 within the Walt Disney World Resort, Orlando Florida. Admission to the Epcot Flower & Garden Festival events are included with your theme park ticket, many experiences require a separate purchase or admission fee. Theme park tickets start at $94.00 for a one-day ticket.
Disney's Flower & Garden Festival celebrates the spring season with beautiful detail orientated topiary displays, lush flower gardens (there is over 67 000 flowers in the festival!) and delightful food.
The main attraction of this festival is the incredible and magnificent topiary displays captivating both classical Disney characters and famous scenes from some beloved Disney movies.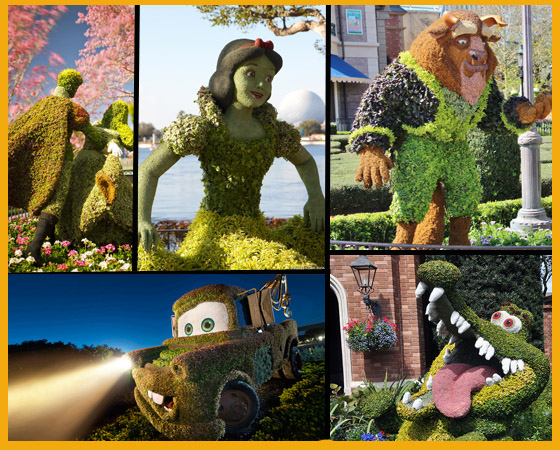 Throughout the festival you can indulge your taste buds with the wide selection of outdoor kitchens featuring garden-grown treats, savory meats and spring inspired flavors.
As for entertainment, HGTV designers give valuable information and inspire you for all things do-it-yourself on the Designer's Stage. Or you can enjoy in the outdoor concerts starring a lineup of classic musical acts.
.

But.. the real magic happens behind the scenes!
In order to make this happen, there is a crew of workers involved and they are not just gardens, there are engineers, artists, construction workers, the list goes on!
These Disney topiary structures are far more complex than they seem. Structural engineers construct a wire base in which moss can grow, after that process is complete the structures are covered with plants and final details are added, including  a paint job.
The purpose of the festival is for both education and enjoyment! They wanted it to be  interactive so it's not just displays, but an entire experience. 
For education, the festival includes a color wheel flower garden, multiple stations where the attendees can be educated on gardening and so much more.
The entire installation of the festival happens in one night, before the opening night of the festival! Which means they take out the existing flowers, plant new ones and install the topiary designs (and there's over 100 topiarys to install, in one night!)
 This year the story behind the main scene depicts Donald and Daisy out in front discovering butterflies and Goofy runs in the scene with a butterfly net trying to catch the butterflies. 
[Click here]

to watch a video of all the behind action of the festival!
Let the magic of Disney inspire you to create beautiful creations with your gardens this spring season! The possibilities are endless, you just have to believe and try them for yourself!