Full Day of Workshops inspiring the creative minds of the FLS students at St. Elizabeth
On February 14, Façade Academy had the opportunity to do a  full day workshop with the FLS students at St. Elizbeth C.H.S. During the day, students created beautiful silhouette paintings bringing their imagination to life!

In the afternoon, the FLS students participated in a Creative Movements workshop. The students were completely relaxed, stimulating their mind, body and creativity! We had such a great day with the FLS students at St. Elizabeth, we can't wait for the next workshop!
Best Workshop yet at St. Elizabeth!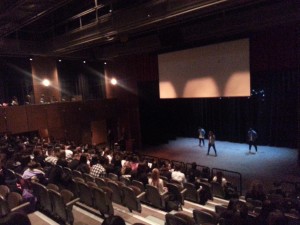 400 art students were entertained in a dynamic creative presentation with performances in dance, music and art!
The presentation featured Rainbow Hill, Into the Void Coaching Services and Royal Rhythm Dance & Entertainment Co.
Façade Academy spoke about creativity,passion, inspiration, portfolio preparation branding and social media. Students were given live examples of what they were learning in the form of entertainment.
The presentation was extremely insightful for the students. They even got the chance to meet Steve Mastroianni, creator of Into the Void Coaching Services and well recognized rock star/guitarist!
Students learned tricks of the trade and benefited from well kept secrets from professional artists.  They were coached through creativity development and inspiration and the key towards their portfolio success.
To end off the presentation, students at St. Elizabeth were given the opportunity to participate in a live social media exercise that assisted them to discover their inspiration!
The response was amazing! Students were inspired, motivated and entertained!